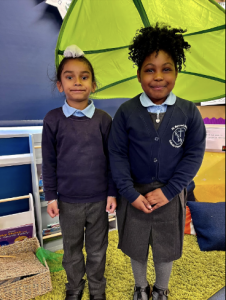 At SS Mary & John the children will be dressed in the correct school uniform without exception School uniform looks smart and also contributes to a feeling of belonging to our community.
We specify colours and types of garments, but there is not a particular supplier that the uniform must be purchased from. It is not a requirement that jumpers and cardigans are branded with the school logo, however, these are available from our uniform supplier.
SS Mary & John branded school uniform, ties and book bags are available from Ron Flowers & Crested where purchases can be made in store or online. Payment plans are available to help spread the cost of school uniforms – please contact Ron Flowers directly for details.
Address: Ron Flowers. 28 Queen Street, Wolverhampton, WV1 3JW
Tel: 01902 429490. Website: www.ronflowerssports.com
Address: Crested. Unit 26 27 Wulfrun Shopping Centre, WV1 3HG
Tel: 01902 593030 Website: www.crestedschoolwear.co.uk
Uniform
Boys Uniform
Winter: Grey trousers, light blue polo shirt/shirt, Navy sweatshirt, grey or black socks, black shoes. (No trainers are allowed except on PE days )
Summer: Grey shorts, light blue polo shirt, grey socks, black shoes.
Girls Uniform
Winter: Grey pinafore dress, skirt or school trousers, light blue polo shirt/blouse, navy cardigan or jumper and flat black shoes. (No trainers are allowed except PE days)
Summer: Blue/White Gingham checked dress, white socks and flat black shoes (no open toes/sandals).*
P.E. Kit
White T-shirt, navy blue shorts/jogging bottoms/leggings and trainers.
*Summer Uniform can be worn in the summer term and up to half term in the autumn term.
Lost Property – Please name all of your child(ren)'s items of uniform and equipment. We strongly urge parents to name all items of children's clothing, both uniform and P.E. kits. Staff cannot be responsible for children's property if it is unnamed.
Jewellery
Jewellery is not part of the uniform and should not be worn to school. It is a safety hazard, especially at playtimes and in PE lessons. If parents insist that earrings are worn because of pierced ears, then these must be small studs and not of the looped or dropper type. Children will be asked to remove them for PE lessons. A watch is permitted (but no SMART watches/devices with camera or interactive games are allowed).No bangles should be worn to school unless worn for religious purposes. Nail varnish or any other make-up is not part of the school uniform and should not be worn to school.
Extreme hairstyles are not allowed in school. This would include brightly coloured hair, spikes or patterns shaved into the hair.
Mobile Phones
Children are not allowed phones in school. However, if a child is in Year 6 and in the summer term Year 5 has written permission to walk home alone, they are permitted to hand a phone into the school office before the school day. It must then be collected at the end of the day. Please note that school cannot be held responsible for any phones left in our care.